THIS SITE OPERATES BEST IN GOOGLE CHROME OR MICROSOFT EDGE
RU Volunteering Website
User Guide for Organisations
Prepared by: Coordinator, Volunteer Services
Tamworth Regional Council
Version 2: March 2021
WHO CAN REGISTER AS AN ORGANISATION?
If you are a non-profit, school, sport, government or community organisation that would like to register with us to recruit and manage volunteers, please follow the instructions below. Please note: you must also have Public Liability Insurance and upload the Certificate of Currency during registration.
ACTION Go to: www.ruvolunteering.org.au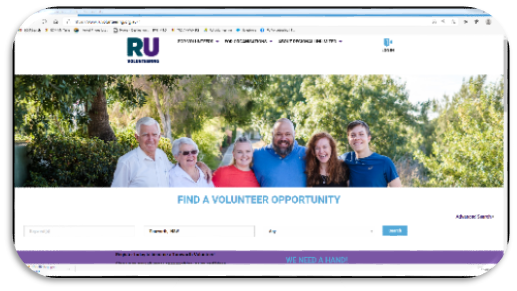 ACTION Select "For Organisations" and "Register your organisation"

NOTE Information provided about registering your organisation and a link to complete this action.
Organisation Sign Up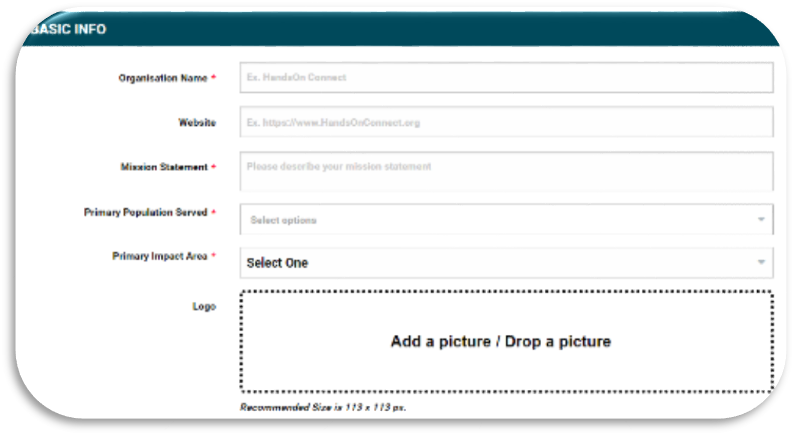 ACTION Fill in Basic Information as indicated.
Sections include: -
Organisation Contact Info

Primary Contact Info

Primary Contact for Volunteer Inquiries (if different than above)

Describe Your Volunteer Needs
ACTION Select "Next" to progress
This section has a range of questions regarding the volunteering opportunities are now presented for you to complete including uploading relevant insurance documents.
NOTE important Information about workers compensation and liability.
ACTION Once you have agreed to the terms indicated by selecting "Yes", select "Finish"
The application will be forwarded for approval and you will be notified when this is completed.
Registration approval involves confirming organisation's eligibility and sighting copies of Certificate of Currency for Public Liability Insurance. The expiry date must also be visible.
NOTE On approval, you can create volunteer opportunities and volunteers can commence expressing interest.
EXISTING / APPROVED ORGANISATIONS

ACTION Click on the "Log in" icon to view and update organisation details including creating new opportunities.
You will be presented with several options in the left-hand column.
CREATING A NEW VOLUNTEER OPPORTUNITY
ACTION Select "Volunteer Opportunities"
ACTION Select "Create Volunteer Opportunity" located on the top right-hand side of the screen to upload a new volunteer activity.
ACTION Fill in the required details; an asterisk * indicates mandatory information is required
NOTE If you would like the opportunity to remain open for a period of time; Select "Schedule Type" = "Individually Scheduled" and continue
ACTION Fill in description and remaining information then select "Next" to progress to the next page
ACTION Fill in the "Start and End Dates"
ACTION Select "Create" to finalise
RECORDING ATTENDANCE
ACTION Select "Report Attendance" from the left column
A list of volunteer opportunities and the relevant volunteer will appear on this page.
HINT for a quick recording of hours for an existing connection, simply edit the hours field and update
ACTION To add a new connection for an opportunity or update any of the attendee details, click on the relevant Volunteer Opportunity
NOTE Here you will have options to "Add Connection" and "Report Attendance"
You can also edit an existing connection and record their hours.
ACTION Once all actions have been completed and your activities are updated/saved, remember to Log out.
VOLUNTEER ORGANISATION OBLIGATIONS
As a minimum, organisations registering for volunteers must be incorporated under the NSW Fair Trading Associations and Co-operatives requirements; and have Public Liability insurance.
Refer to Running an association | NSW Fair Trading for more information.
FEEDBACK
Your feedback is always welcome. Please send User Guide improvement suggestions and feedback to: -
For the attention of the Coordinator, Volunteer Services.
RU Volunteering is proudly supported by Tamworth Regional Council
For Volunteer Organisatio